When you use WordPress as a platform for your website and the WordPress that you use is a type of hosted or hosted site, then on time you might experience problems, problems arise due to various things, either because the plugin doesn't match or maybe the problem you're facing related to the hosting you are using.
When you experience problems related to the hosting you are using, maybe you will need detailed information about the hosting server that you are using for WordPress. For example, when you want to install WordPress plugins and plugins that require certain criteria on the server such as the PHP version must be the latest version or the latest MySQL Database, then you should make sure you know in advance about the hosting information you are using before installing the plugin so that the plugin runs with good and no problems occur. And to find the actual hosting server information is not difficult, you can request that information directly to the web hosting provider You or if it's too long then you can use the practical method that I will explain in this article.
HOW TO KNOW THE INFORMATION OF A WEB HOSTING SERVER
First, you need to install and activate the System Snapshot Report Plugin . After the plugin is activated, a new menu will appear called "Snapshot", please access the menu on Tools »Snapshot to see information on web hosting and information systems. This plugin does not have special settings, so there is no configuration that you need to do.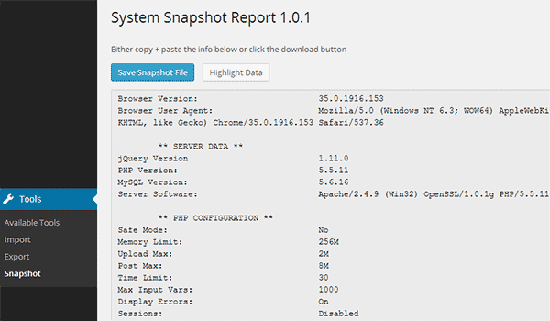 The plugin will display server information that you use such as PHP configuration, and WordPress configuration. You can use this information to solve problems, especially for certain configuration settings or to find out the specifications of the plugin that you are installing.
In addition, this plugin will also display information about your WordPress installation. For example, what WordPress themes are used, plugins that you have installed, and also the permalink structure used, and many more. This information is very useful if you want to get help from someone without giving them access to your website. Because if you buy a plugin and it doesn't work well, usually the plugin support section asks for information about your website hosting server.
You can only copy and paste this information anywhere, or you can click the Save Snapshot File button to download this information in a text file.
GET COMPLETE PHP INFO AND MYSQL CONFIGURATION ON WORDPRESS
If the information you are looking for is not available in the System Snapshot Report plugin, then there is another alternative plugin, WP-ServerInfo .
After you activate the plugin, please go to the Dashboard »WP-ServerInfo and there you will find the information on the WordPress system that you are using. This plugin is the same as the previous plugin which also doesn't require settings. And the WP ServerInfo plugin is certainly better than the first because of the complete information displayed and also getting regular updates while the first plugin has not been updated since two years ago.
Apart from the above method, actually if you use a plugin for SEO optimization to improve your WordPress SEO like the All in One SEO plugin, you can also get information about the web hosting server that you are using and the WordPress installation information without you installing one of the two plugins above. To see hosting information just go to the All in One SEO menu »Performance . And all information data about your hosting will be displayed in full.
And that's some easy ways to see the hosting information that you use on WordPress, I hope this article helps you find information about web hosting and good luck. 🙂